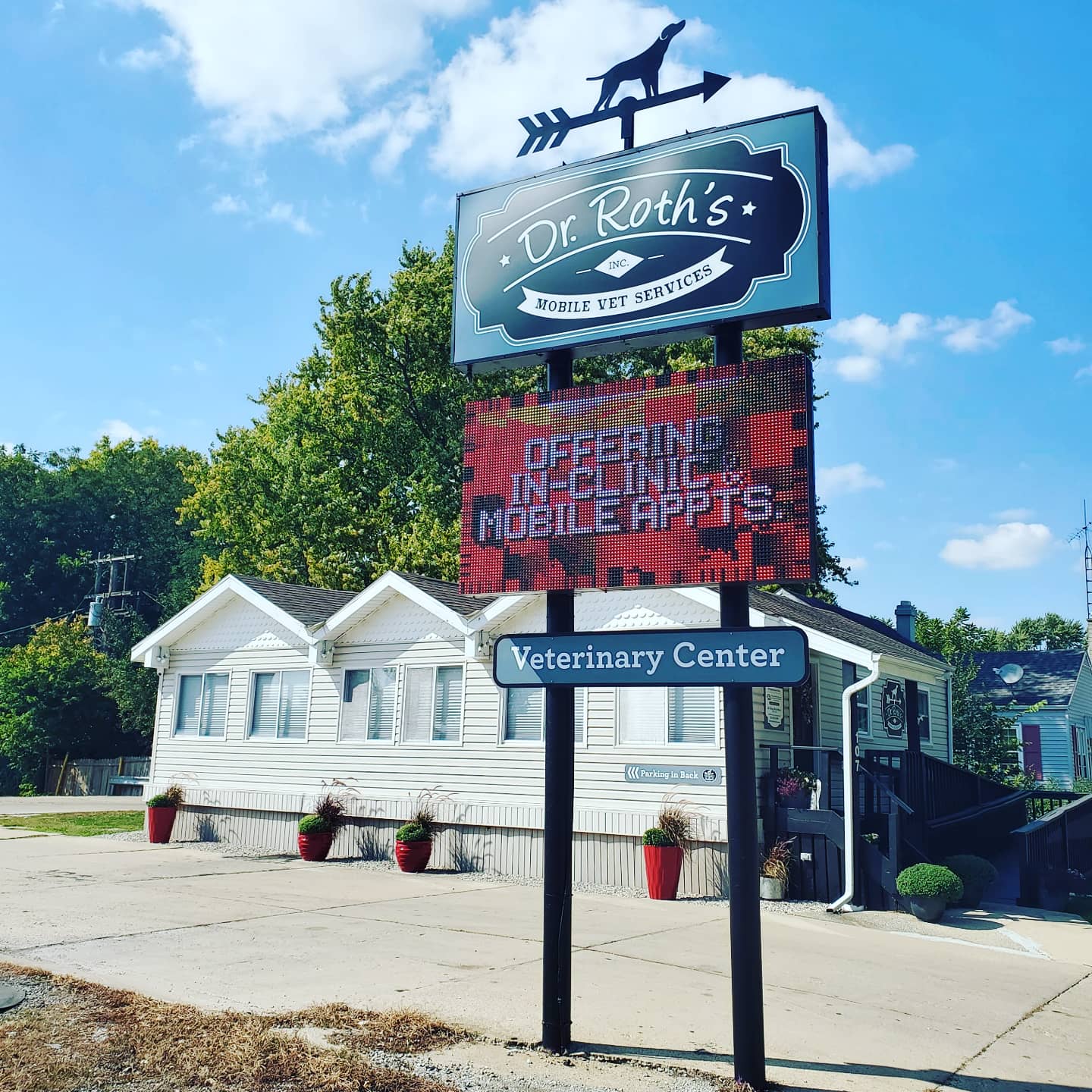 Veterinary Center NOW OPEN!
Now Offering In-Clinic and Mobile Veterinary.
- LOCATED IN BOURBONNAIS, IL
107 Bernard Street, Bourbonnais, IL 60914 (Across from Olivet and next to The Library Bar)
-No walk-ins at this time, Appointments Only!
Call 815-526-0360 to schedule an appointment!

Check out Dr. Roth's Online Pharmacy
Online convenience for all your animal needs!
Hours of operation:
Monday: 8am-5pm | Tuesday: 8am-5pm | Wednesday: 8am-5pm | Thursday: 8am-5pm | Friday: 8am-12pm | Saturday: Closed | Sunday: Closed
For questions regarding scheduling please reach out us.

Dr Roth will examine your pet in the comfort of your own home whether they need a vaccine or aren't feeling well. Eliminating the need to travel or wait in a crowded exam room.
Learn More
Laser class 4 laser therapy treatments are available to help your pet or horse recover from a variety of ailments. K-Laser is an alternative treatment that can help with arthritis, fractures, joint disease, wounds, hot spots, geriatrics, stomatitis, dysplasia, ear infections, dentals, sprains & strains, and so much more!
Learn More
Dr. Roth has you covered!
Serving areas within: Will, Kankakee, and Iroquois counties.
Dr. Roth travels from Bourbonnais, Il
Contact us today to see if we reach your home!
Outside our coverage area? Depending on the area, we may still be able to reach you for an additional fee.
Need more information?
We know how important it is to get the right treatment for your pet.

We now offer CareCredit®
Veterinary and pet financing to help keep your most cherished family members in top shape. Apply now or learn more!