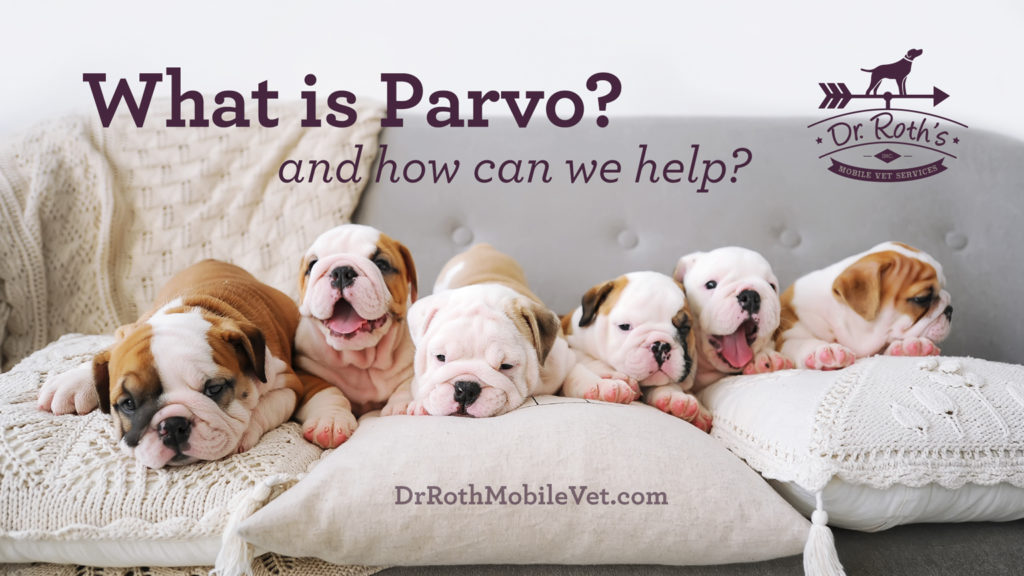 Parvo which is short for Parvovirus. Parvo is a very serious and deadly disease that can effect young puppies who've not been vaccinated.
The small virus first appeared in the late 1970s. It's transmitted from dog to dog through feces and vomit. Even people can spread the disease from hands, shoes, etc… Puppies are often at the greatest risk for getting Parvo. However, older unvaccinated dogs are susceptible as well and contracting this virus often has deadly consequences.
Here are symptoms of Parvo:
Dogs that develop the disease show signs of the illness within 3 to 7 days.
– Lethargy
– Vomiting
– Fever
– Diarrhea (usually bloody)
– Loss of appetite
– Dehydration
Can Parvo be prevented?
The good news is that it can by prevented. There is an inexpensive vaccine that is available through Dr. Roth Mobile Vet Services that can be given when your puppy is 6-8 weeks of age. Parvo puppy shots are repeated every 3-4 weeks usually until puppy is 16 weeks old.
Dr. Roth Mobile Vet Services offers puppy packages to get your puppy properly vaccinated. Puppy packages currently offered (exam and house call additional):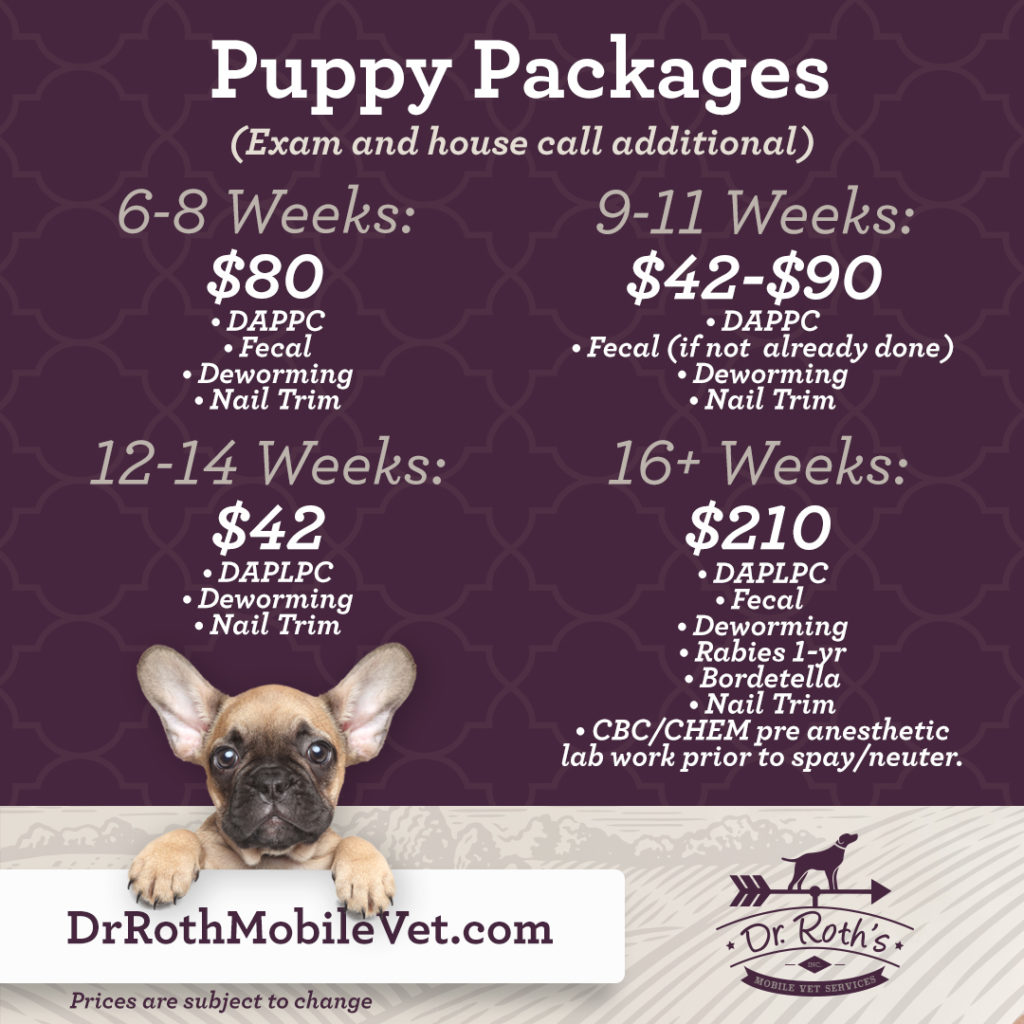 6-8 weeks : $80
• DAPPC
• Fecal
• Deworming
• Nail trim
9-11 weeks: $42-$90
• DAPPC
• Fecal (if not already done)
• Deworming
• Nail trim
12-14 weeks – $42
• DAPLPC
• Deworming
• Nail trim
16 + weeks – $210
• DAPLPC
• Fecal
• Deworming
• Rabies 1 yr
• Bordetella
• Nail trim
• CBC/CHEM pre anesthetic lab work prior to spay/neuter
Prevention is everything!
Treating your puppy with Parvo can be very expensive: anywhere from $800 to $3000 and the treatment may not be successful. However, Puppy Parvo vaccines by comparison are inexpensive. If your puppy hasn't been vaccinated, don't wait! Contact Dr. Roth today at 815-526-0360 or visitDrRothMobileVet.com and get your puppy vaccinated.